QS7AA050M2 AC Servo Drive/Controller -easy operation
QS7AA050M is a universal servo drive product based on QS6 optimization and improvement, adhering to the Adtech QS6 series of excellent quality, more stable and more convenient. The QS7AA050M servo motor drive are more mature and stable with rich and complete data. New adding 485 communication function makes to connect with the upper computer software or controller more convenient and reliable.
Feature
The characteristics of last generation QS6 servo drivers have been fully retained.
AC sine wave control, smooth torque, no impulse.
2500 line incremental photoelectric encoder, high positional accuracy, rotation positional accuracy can reach 1/10000R.
Speed ration can be as large as 1:5000, has stable torque characteristics from low speed to high speed.
Adopting high speed FPGA processing, motor fastest rotation speed can be 5000RPM.
Rich and complete parameter setting can be configured with different ways of working and operating characteristics to adapt to different requirements.
Possess position, speed and torque control mode, has applications in a wide range.
Use intelligent Space Vector control (SVPWM), has much larger torque and much less noise than traditional SPWM.
Up to three times overload design, stronger load ability.
Perfect protection function: over current, overvoltage, over heat, encoder abnormal etc.
Perfect condition monitoring function, such as positional deviation, rotate speed, feedback impulse, command impulse etc.
Function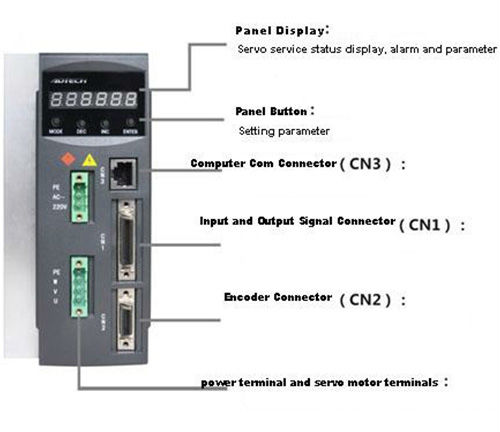 Parameters
Size
Previous:High speed AC Servo Motor ACH-13150CC IV
Next:high-quality Servo Driver QS7AA030M IV
ADTECH (SHENZHEN) TECHNOLOGY CO., LTD.
Tel: +86-755-2609-9116
Fax: +86-755-2672-2718
Mobile:+86-15579618777
Website:www.machine-controller.com