ADT-CNC4960 10.4inch 6-Axis CNC Milling Controller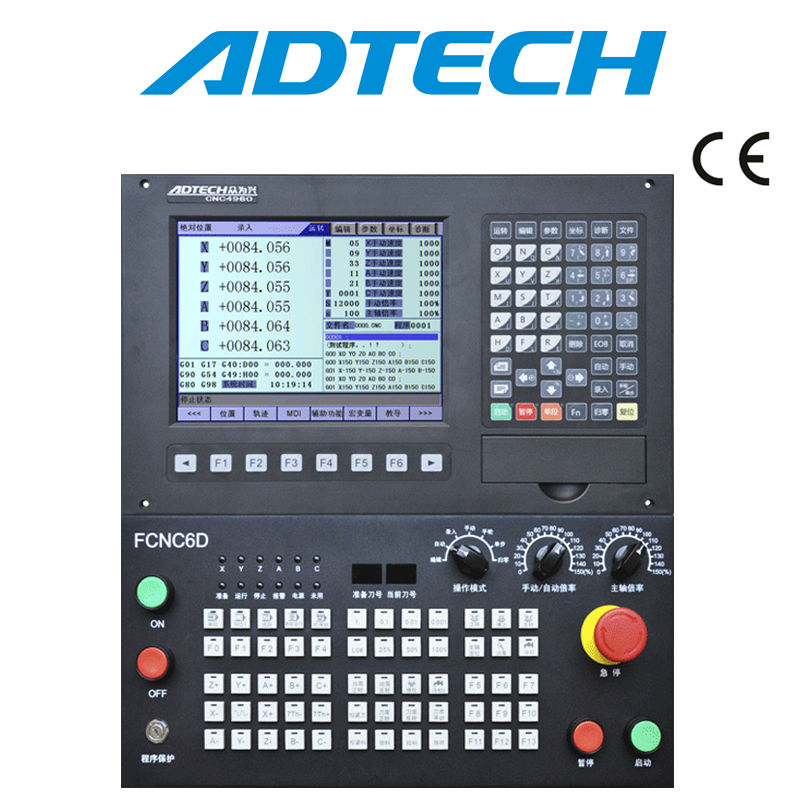 ADT-CNC4960 Six Axis CNC Milling Controller Function:
Pulse frequency up to 1M;
56 input and 48 output ports;
2-channel 0-10v analog output Control;
a set of PWM analog control port;
256M built-in electronic disk, support 8G storage space expansion.
ADT-CNC4960 Six Axis CNC Milling Controller Feature:
6 axis movement, 6 axis interpolation linkage movement;
6 stepper / servo motor control;
Independent servo spindle;
Speed prospect processing, control the speed transition smooth;
Support straight line magazine, disc magazine, cylinder tool change and magazine features customize;
System self diagnose and parameters backup, recovery function;
Support USB, Ethernet, serial communication, U disk, SD card operation;
Support MPG running G code;
G code track preview, real-time tracking and syntax check function.
Previous:ADTECH ADT-CNC4960 6 Axis CNC Milling Controller with MPG and Additional panel CA
Next:NCT-04 Four Axis Punching CNC Controller programmed by G code SH
ADTECH (SHENZHEN) TECHNOLOGY CO., LTD.
Tel: +86-755-2609-9116
Fax: +86-755-2672-2718
Mobile:+86-15579618777
Website:www.machine-controller.com