AC motor drive inverter with pure sine wave V/F control WE
ADTECH's mission is to create a platform of shared interests; it provides to achieve goals; continuing to improve production iciency and customer objetives; meet
our customers' needs and desires!
ATDTECH focus on industrial automation product development, production and sales, the main products: high and low voltage inverter, soft starter, servo drives, active filtering.
The company is a national high-tech enterprice,high-performance vector control inverter tech-nology, servo technology and permanent magent synchronous motor control technology and other core technologies.
ADTECH T8/H8 series inverter
T8/H8 series is a high performance current vector inverter.Based ADTECH, an accurate understanding of high-end applications, adhering ADTECH on high quality, hihg-reliability
requirments of one accustomed to, T8/H8 series inverter will be excellent performance and powerful features,bringing in the industrial fields of application shock, make your mid and
high demand solved.
Performance:
Support variety of motor vector control:
1. Support for three phases AC induction motor, synchronous motor vector control
2. Supports absolute position feedback without permanentmagnet synchronous motor vector control
3. Support a variety of encoders ( Note: H support)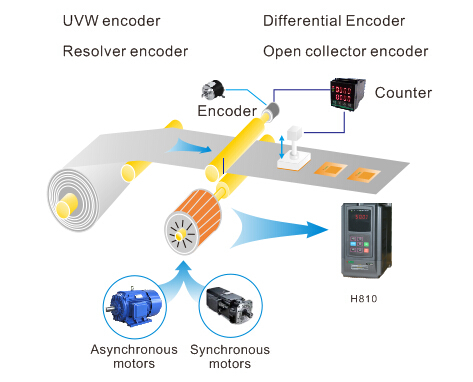 Flexible and practical analog I/O port
l Each analog input (AI1-AI3), can be set four points of the curve, flexible;
l AI1-AI3 can be factory-school certificate or user site license linear calibration curve after calibration accuracy up to 20mV;
l AO1 can factory school certificate or user site license linear calibration curve zero drift and gain accuracy after calibration certificate 20mV;
l AI1-AI3 can be used for DI;
l Ai3 is isolated input port can be used as PT100 or ± 10V input.
Communication of the T8
The housing types of the T8 models with different voltage and power classes are listed in

the following table.
Technical Specifications
Technical specifications of the T8
Previous:T8 series High Performance General Frequency Inverter WE
Next:Frequency inverter & converter WE
ADTECH (SHENZHEN) TECHNOLOGY CO., LTD.
Tel: +86-755-2609-9116
Fax: +86-755-2672-2718
Mobile:+86-15579618777
Website:www.machine-controller.com